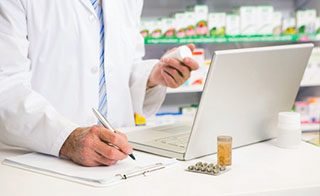 This CE activity was originally published in The Rx Consultant. If you received credit for it previously, you cannot receive credit for it again.
The past few years have seen a number of legislative and regulatory changes at the federal level; both with the Food and Drug Administration (FDA) and the Drug Enforcement Administration (DEA). This article will address key changes impacting pharmacy practice in the areas of compounding, drug supply chain security, biosimilars, and the regulation of controlled substances in order to prevent diversion and abuse.
The passage of the Drug Quality and Security Act of 2013 (DQSA) updates the Federal Food, Drug, and Cosmetic Act (FDCA) in the areas of human drug compounding and drug supply chain security.1 Previously, compounding was mostly regulated by individual states under section 503A of the FDCA. In the years to come, the FDA will continue to clarify regulations surrounding compounding and drug supply chain security.
The FDA has developed policy regarding biological medications, particularly around nearly identical biological products (biosimilars) and their therapeutic substitution. A new online publication called the "Purple Book" lists biological products, and specifies those that are biosimilar and/or interchangeable.
Format
This CE activity is a monograph (PDF file).
Fee
$10.00
CE Hours
2.00
CE Units
0.200
Activity Type
Target Audience(s)
Pharmacists, Nurse Practitioners, Clinical Nurse Specialists, and Registered Nurses
Accreditation(s)
This CE activity was developed by

The Rx Consultant,

a publication of Continuing Education Network, Inc.


CE activities for Pharmacists and Pharmacy Technicians:
This continuing education (CE) activity meets the requirements of all state boards of pharmacy for approved continuing education hours. CE credit is automatically reported to CPE Monitor.

CE activities for Nurse Practitioners and Clinical Nurse Specialists:

This continuing education activity meets the requirements of:
The American Nurses Credentialing Center (ANCC) for formally approved continuing education (CE) hours, and CE hours of pharmacotherapeutics.
The American Academy of Nurse Practitioners Certification Program (AANPCP) for acceptable, accredited CE.

This is a pharmacotherapeutics/pharmacology CE activity.

The ANCC requires all advanced practice nursing certificants (CNSs and NPs) to complete 25 CE hours of pharmacotherapeutics as a portion of the required 75 continuing education hours.
Pharmacology CE is recommended by the AANPCP and will be required for Certificants renewing certification starting January 2017.
Most State Boards of Nursing require a minimum number of pharmacy contact hours to renew an advanced practice license.

Continuing Education Network, Inc. is accredited by the Accreditation Council for Pharmacy Education as a provider of continuing pharmacy education.
Requirements for CE Credit
To receive CE credit, the participant must read the monograph in its entirety, complete the online post-test and receive a score of 70% or greater, and complete the online evaluation.
Pharmacists and Pharmacy Technicians -
Be sure your profile has been updated with your NAPB e-profile # and birth date information BEFORE completing the online evaluation, or your credits cannot be reported to CPE Monitor.
Continuing pharmacy education credit is automatically reported to CPE Monitor once the post-test & evaluation are successfully completed.
Objectives
Discuss the differences between traditional compounding and compounding at outsourcing facilities and the regulations that apply to each. Compare sections 503A and 503B of the Compounding Quality Act.
Explain the Drug Supply Chain Security Act as it applies to various parts of the pharmaceutical distribution chain and recognize the key provisions of the Act to be implemented by 2023.
Define what is meant by a biosimilar product, and discuss the FDA's criteria for interchangeability.
Apply the Drug Disposal Act implemented in 2014 to your practice. Identify the allowed methods of controlled substance disposal and requirements for each.
Summarize the advantages of the rescheduling of hydrocodone combination products to Schedule II, and the regulation under the Comprehensive Addiction and Recovery Act (CARA) regarding partial filling of Schedule II drugs.
Speaker(s)/Author(s)
Kimberly Burns , RPh, JD
Professor of Pharmaceutical Sciences, Lake Erie College of Osteopathic Medicine (LECOM)


Brief Bio : Kimberly Burns RPh, JD is a Professor of Pharmaceutical Sciences at the Lake Erie College of Osteopathic Medicine (LECOM) School of Pharmacy in Erie, Pennsylvania.
Disclosure : Kimberly Burns RPh, JD reports no financial relationship with the manufacturer(s) or provider(s) of any commercial product(s) or service(s) that appear in this issue.
Activity Number
0428-0000-17-007-H03-P
Release Date:
Jul 6, 2017
Credit Expiration Date:
Jul 6, 2020
CE Hours
2.00
Fee
$10.00