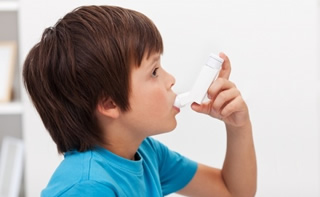 This CE activity was originally published in The Rx Consultant. If you received credit for it previously, you cannot receive credit for it again.
Asthma is the most common chronic condition in children in the US, with an incidence of 9% (6.8 million individuals under the age of 18). It is more common in children from families living below the poverty threshold (13%) than families with higher incomes (8%). African-American children are more likely to have asthma (16%) than Hispanic (9%) or non-Hispanic white (8%) children. Asthma cannot be cured, but illness and deaths can be prevented with appropriate drug therapy.
The National Asthma Education and Prevention Program (NAEPP) Expert Panel Report (EPR-3) guidelines for the Diagnosis and Management of Asthma are currently used as the standard of practice in the US, but have not been updated since 2007. An international guideline -- the Global Initiative for Asthma (GINA) global strategy for asthma management and prevention – was extensively revised in 2014, and was updated in 2015 to include current literature. GINA provides a comprehensive, integrated approach that is widely used to guide asthma management. Both the EPR-3 and GINA guidelines endorse the involvement of pharmacists and nurse practitioners in comprehensive asthma management strategies. GINA separates asthma patients into 2 age groups: 1) children 5 years of age and younger, and 2) adults, adolescents, and children age 6 and older. This article is focused solely on pediatric asthma, using the GINA age groupings and related recommendations. Children less than 6 years old are considered "young children" and those 6 to 17 years old will be referred to as "older children." The outpatient management of pediatric asthma based on GINA strategies will be reviewed including the medications most commonly used for pediatric asthma.
The role of community providers in pediatric asthma management is multi-faceted and may include education, monitoring drug therapy, and equipping patients/families for self-management. The educational needs of patients and family include information about the disease and medications, regular review of proper inhaler and spacer technique, instruction about the use of peak flow meters, and recognition of triggers and symptoms. Drug therapy may be monitored through inquiries about effectiveness, side effects, and adherence to treatment. Self-management skills may include adopting asthma action plans, setting goals, avoiding triggers, and home management of exacerbations.
Format
This CE activity is a monograph (PDF file).
Fee
$10.00
CE Hours
1.50
CE Units
0.150
Activity Type
Target Audience(s)
This accredited program is targeted to pharmacy technicians.
Accreditation(s)
This CE activity was developed by

The Rx Consultant,

a publication of Continuing Education Network, Inc.


CE activities for Pharmacists and Pharmacy Technicians:
This continuing education (CE) activity meets the requirements of all state boards of pharmacy for approved continuing education hours. CE credit is automatically reported to CPE Monitor.

CE activities for Nurse Practitioners and Clinical Nurse Specialists:

This continuing education activity meets the requirements of:
The American Nurses Credentialing Center (ANCC) for formally approved continuing education (CE) hours, and CE hours of pharmacotherapeutics.
The American Academy of Nurse Practitioners Certification Program (AANPCP) for acceptable, accredited CE.

This is a pharmacotherapeutics/pharmacology CE activity.

The ANCC requires all advanced practice nursing certificants (CNSs and NPs) to complete 25 CE hours of pharmacotherapeutics as a portion of the required 75 continuing education hours.
Pharmacology CE is recommended by the AANPCP and will be required for Certificants renewing certification starting January 2017.
Most State Boards of Nursing require a minimum number of pharmacy contact hours to renew an advanced practice license.

Continuing Education Network, Inc. is accredited by the Accreditation Council for Pharmacy Education as a provider of continuing pharmacy education.
Requirements for CE Credit
To receive CE credit, the participant must read the monograph in its entirety, complete the online post-test and receive a score of 70% or greater, and complete the online evaluation.
Pharmacy Technicians -
Be sure your profile has been updated with your NAPB e-profile # and birth date information BEFORE completing the online evaluation, or your credits cannot be reported to CPE Monitor.
Continuing pharmacy education credit is automatically reported to CPE Monitor once the post-test & evaluation are successfully completed
Objectives
Explain the difference between a rescue (reliever) medication and a controller medication, and give an example of each.
List the generic and brand names of 4 asthma medications and the usual route of administration for each.
List 2 side effects of short-acting beta2 agonists (SABA), long-acting beta2 agonists (LABA), leukotriene modifiers, and inhaled corticosteroids.
Give the rationale for the use of inhalers and peak expiratory flow (PEF) monitoring.
Speaker(s)/Author(s)
Kelly J Wright, PharmD, BCACP ,TTS
Clinical Pharmacist


Brief Bio : Pharmacist at Primary One Health in Columbus, Ohio.
Disclosure : Dr. Wright reports no financial relationship with the manufacturer(s) or provider(s) of any commercial product(s) or service(s) that appears in this issue.
Activity Number
0428-0000-16-003-H01-T
Release Date:
Mar 23, 2016
Credit Expiration Date:
Mar 23, 2019
CE Hours
1.50
Fee
$10.00