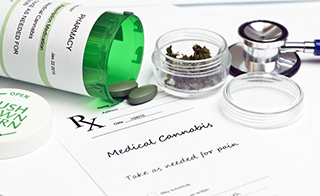 This CE activity was originally published in The Rx Consultant. If you received credit for it previously, you cannot receive credit for it again.
Marijuana has been used for thousands of years for medical conditions, as well as for recreational purposes. The terms "marijuana" and "cannabis" are used interchangeably; however, cannabis is the more contemporary clinical designation. The use of marijuana has increased recently among US adults (18 years and older), from 10% in 2002 to 13% in 2014. The rise in marijuana use coincides with a declining perception of risk linked with its use, and its use is more prevalent in states with permissive medical marijuana laws. As of November 2016, 28 states and the District of Columbia have legalized medical marijuana, and 16 states have laws permitting the use of cannabidiol (CBD; a nonpsychoactive constituent of cannabis) for medical purposes. Seven states (Alaska, California, Colorado, Massachusetts, Nevada, Oregon, and Washington) and the District of Columbia have legalized both medical and recreational cannabis use.
In 2014, over 110,000 people in Colorado (2% of the population) were registered as medical marijuana users for conditions such as cancer, pain, glaucoma, or cachexia.2 As many as 2.6 million people are registered medical marijuana users nationwide. The legalization of medical marijuana in many states has occurred despite the fact that the FDA has yet to approve plant-based marijuana for any medical condition. The FDA has approved 2 synthetic cannabinoids, dronabinol (synthetic THC) and nabilone, for management of nausea and vomiting associated with cancer chemotherapy. Dronabinol is also approved for appetite stimulation in patients with wasting due to acquired immune deficiency syndrome (AIDS)...
Format
This CE activity is a monograph (PDF file).
Fee
$10.00
CE Hours
1.50
CE Units
0.150
Activity Type
Target Audience(s)
This accredited program is targeted to pharmacy technicians.
Accreditation(s)
This CE activity was developed by

The Rx Consultant,

a publication of Continuing Education Network, Inc.


CE activities for Pharmacists and Pharmacy Technicians:
This continuing education (CE) activity meets the requirements of all state boards of pharmacy for approved continuing education hours. CE credit is automatically reported to CPE Monitor.

CE activities for Nurse Practitioners and Clinical Nurse Specialists:

This continuing education activity meets the requirements of:
The American Nurses Credentialing Center (ANCC) for formally approved continuing education (CE) hours, and CE hours of pharmacotherapeutics.
The American Academy of Nurse Practitioners Certification Program (AANPCP) for acceptable, accredited CE.

This is a pharmacotherapeutics/pharmacology CE activity.

The ANCC requires all advanced practice nursing certificants (CNSs and NPs) to complete 25 CE hours of pharmacotherapeutics as a portion of the required 75 continuing education hours.
Pharmacology CE is recommended by the AANPCP and will be required for Certificants renewing certification starting January 2017.
Most State Boards of Nursing require a minimum number of pharmacy contact hours to renew an advanced practice license.

Continuing Education Network, Inc. is accredited by the Accreditation Council for Pharmacy Education as a provider of continuing pharmacy education.
Requirements for CE Credit
To receive CE credit, the participant must read the monograph in its entirety, complete the online post-test and receive a score of 70% or greater, and complete the online evaluation.
Pharmacy Technicians -
Be sure your profile has been updated with your NAPB e-profile # and birth date information BEFORE completing the online evaluation, or your credits cannot be reported to CPE Monitor.
Continuing pharmacy education credit is automatically reported to CPE Monitor once the post-test & evaluation are successfully completed.
Objectives
Identify the main chemicals of marijuana that have potential medical use, and discuss the current regulations surrounding their use.
State the brand name, generic name, and indication of each FDA approved synthetic marijuana medication.
Describe the short-term effects of marijuana and the possible long-term side effects.
Discuss the various methods for administering marijuana and advantages or disadvantages of each method.
Speaker(s)/Author(s)
Kari Franson, Pharm.D., Ph.D, BCPP
Dean for Professional Education, University of Colorado


Brief Bio : Kari Franson, Pharm.D., Ph.D, BCPP is the Associate Dean for Professional Education, Department of Clinical Pharmacy at Skaggs School of Pharmacy and Pharmaceutical Sciences, University of Colorado. She has guided national and international professional, legislative, media and commercial groups on the wise study and use of cannabis.
Activity Number
0428-0000-16-011-H01-T
Release Date:
Dec 23, 2016
Credit Expiration Date:
Dec 23, 2019
CE Hours
1.50
Fee
$10.00