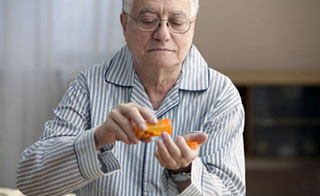 This CE activity was originally published in The Rx Consultant. If you received credit for it previously, you cannot receive credit for it again.
Interest in medication errors was heightened by publication of the Institute of Medicine (IOM) report "To Err is Human," which revealed the burden of medical errors and the impact on patients in the US. Following publication of the report in 2000, health care organizations bolstered efforts to reduce medical errors and the illness and death that result. Despite these efforts, a recent analysis based on studies conducted since the IOM's report highlighted medical errors (including medication errors) as the third leading cause of death in the US. Extrapolating to the total number of US hospital admissions in 2013, the authors estimated that more than 250,000 deaths per year are caused by medical errors – and that includes only inpatient deaths.
Medication errors have been identified as the most common type of medical error.3 The FDA estimates that medication errors occur in about 1.3 million people annually and result in at least one death every day in the US.4 In the hospital setting, adverse drug events (ADEs) occur in nearly 5% of patients; preventable ADEs are one of the most common types of inpatient errors.5 In the outpatient setting, ADEs account for more than 3.5 million physician office visits, 1 million emergency department (ED) visits, and 125,000 hospital admissions annually. It is estimated that nearly half of these ADEs are preventable. Given the impact of medication errors and ADEs on healthcare utilization and costs in the US, error prevention practices remain key for both prescribers and pharmacists. Because pharmaceutical care involves the identification, resolution, and prevention of drug therapy problems and medication errors, pharmacy personnel, as well as prescribers and patients, have a key role in error prevention.
This issue provides background information on medication errors and ADEs, and discusses medication error identification and prevention...
Fee
$10.00
CE Hours
2.00
CE Units
0.200
Activity Type
Target Audience(s)
This accredited program is targeted to pharmacy technicians.
Accreditation(s)
This CE activity was developed by

The Rx Consultant,

a publication of Continuing Education Network, Inc.


CE activities for Pharmacists and Pharmacy Technicians:
This continuing education (CE) activity meets the requirements of all state boards of pharmacy for approved continuing education hours. CE credit is automatically reported to CPE Monitor.

CE activities for Nurse Practitioners and Clinical Nurse Specialists:

This continuing education activity meets the requirements of:
The American Nurses Credentialing Center (ANCC) for formally approved continuing education (CE) hours, and CE hours of pharmacotherapeutics.
The American Academy of Nurse Practitioners Certification Program (AANPCP) for acceptable, accredited CE.

This is a pharmacotherapeutics/pharmacology CE activity.

The ANCC requires all advanced practice nursing certificants (CNSs and NPs) to complete 25 CE hours of pharmacotherapeutics as a portion of the required 75 continuing education hours.
Pharmacology CE is recommended by the AANPCP and will be required for Certificants renewing certification starting January 2017.
Most State Boards of Nursing require a minimum number of pharmacy contact hours to renew an advanced practice license.

Continuing Education Network, Inc. is accredited by the Accreditation Council for Pharmacy Education as a provider of continuing pharmacy education.
Requirements for CE Credit
To receive CE credit, the participant must read the monograph in its entirety, complete the online post-test and receive a score of 70% or greater, and complete the online evaluation.
Pharmacy Technicians -
Be sure your profile has been updated with your NAPB e-profile # and birth date information BEFORE completing the online evaluation, or your credits cannot be reported to CPE Monitor.
Continuing pharmacy education credit is automatically reported to CPE Monitor once the post-test & evaluation are successfully completed.
Speaker(s)/Author(s)
Joshua J. Neumiller, PharmD, CDE, FASCP


Brief Bio : Dr. Neumiller is a Consultant Pharmacist and an Associate Professor of Pharmacotherapy at Washington State University (WSU). Dr. Neumiller is a member of WSU's Geriatrics Team and WSU's Clinical Trials Research Team. Dr. Neumiller is actively involved in research aiming to improve medication safety during care transitions for older adults and clinical trials centered on the management of diabetes and its complications.
Kelly Ann Tanaka
Washington State University in Spokane Washington.


Brief Bio : PharmD candidate
Activity Number
0428-0000-17-006-H05-T
Release Date:
May 20, 2017
Credit Expiration Date:
May 20, 2020
CE Hours
2.00
Fee
$10.00